Evolution of the purpose of the office
The physical work environment is in transition, seeking solutions to stay relevant. The office of 10 or even 5 years ago no longer meets the requirements of our current reality. The way we work has evolved; our work environments must follow.
Employees have certain basic needs that can be met in the work environment. To quote Aristotle, "Man is by nature a social animal". People flourish in community. We need to make meaningful connections. Today, the office must meet the needs of users by being a collaborative, communicative, creative and flexible space. It must allow for a perfect balance between individual work and teamwork. It must also meet the needs of the employer by ensuring the efficiency and productivity of its employees.
Inspire employees
New office design trends provide workstations and meeting rooms that are flexible and motivating. The emergence of large open-space shared tables and collaborative spaces with integrated technology are proof of this. There are more lounge, meeting and cafeteria spaces. Ideas no longer come to light only in the confines of a conventional office, and nothing can replace "brainstorming" with a colleague or team, face to face. This is where innovation and inspiration happens – this is where we excel.
Here are 3 examples of how office furniture can facilitate the connection between the employee, their colleagues and the task at hand.
1. Open space collaboration
Our client was looking for an open-plan office space to encourage interaction and collaboration between employees. Artopex Uni-T systems furniture with frosted screens separating the workstations was the solution to providing a bright environment with privacy. Each employee has a Vortex Mesh ergonomic task chair to ensure they are comfortably seated. Employees have access to nearby meeting spaces designed with Sky architectural walls and furnished with Take Off conference tables and Vortex Mesh chairs when for more privacy is needed for phone calls or meetings. Transparent glass transoms at the top of the Sky architectural walls allow the light to enter the space and the luminous white walls create a sense of openness in the closed space. Downtown collaborative furniture in a lounge area with access to electricity in the seating provides space for breaks and informal meetings. The project used 100% Artopex furniture solutions to support a variety of ways of working.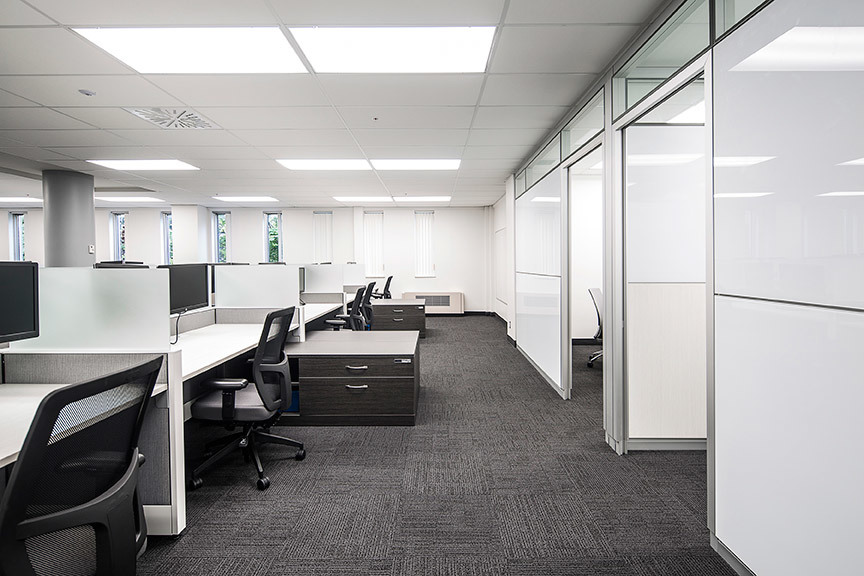 2. Informal meeting spaces
Meridian Credit Union created a relaxed meeting space filled with light using Downtown collaborative furniture and Element lounge seating. Downtown privacy screens divide the space for a more comfortable meeting environment. This flexible space is used for casual meetings, breaks, and even as an alternative work space where an employee can bring their laptop for a change of scenery. Meridian also offers closed meeting spaces designed with Sky architectural walls and Cyrano lounge chairs for more privacy and access to technology.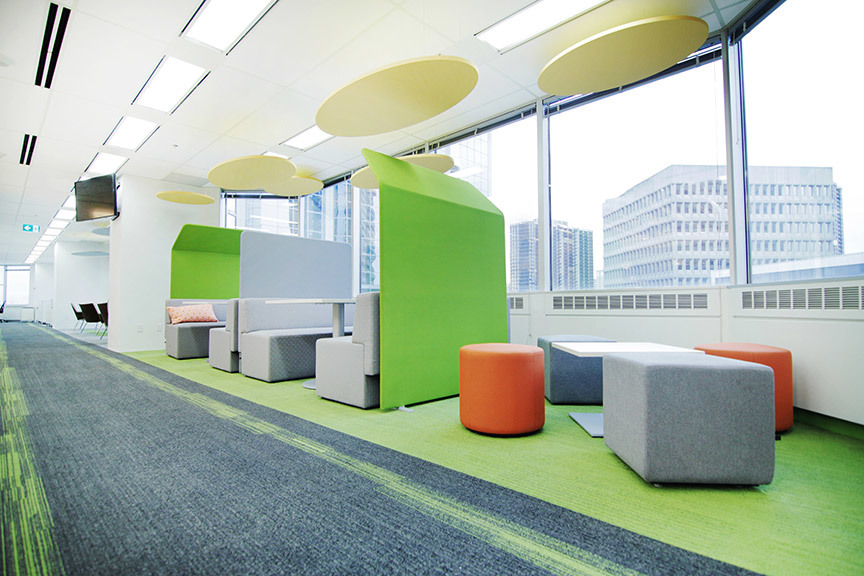 3. A micro-community
The City of Toronto used a variety of Artopex furniture collections to enclose 10 workstations within an open space office. Uni-T system was used to design a collaborative community. Each workstation is equipped with a Take Off height adjustable table to enable the user to vary their working position throughout the day and a Vortex Mesh ergonomic task chair for a high level of comfort while seated. The lighting from the white suspended ceiling creates a bright and inspiring space. All of these elements combine to create a micro-community of well-being in the office.

Happiness at work = employee engagement
When work environments are designed to fit to how we really work, survey results show that people are more satisfied with their workplace and are therefore more engaged. Employees are more dedicated because these new work environments meet their needs and aim to promote their physical, mental and emotional well-being. For the employee and the employer, it's a win-win situation. (In addition, new office design trends can save up to 20% floor space, leading to a significant decrease in operating costs!).
Each work environment can easily be tailored to meet the needs of employees while encouraging and helping them to meet the needs of the employer. By creating spaces where employees can thrive, meet and collaborate, employers create a work environment that inspires employees to be at their best. If the design does all this, offices will always be relevant.