Working spaces have been transforming for several years and professionals are feeling the weight of those changes daily. The working world is speeding up and it's sometimes a source of stress or pressure.
As a response, relaxation areas have started appearing and many companies would call them essential. Implementing those spaces helps maintain well-being and a productive working atmosphere throughout the office. This space is a privileged area where employees can socialize, clear their head, rest, and relax. Furniture, colours, design, natural light, and flexibility are all crucial elements to consider for the layout of a wellness area.
Here are a few tips for the design of a relaxation area that will help your employees flourish.
Comfort above all
Choosing the right furniture is essential when planning your space. It must accommodate different ways of working and offer professionals a chance to adopt a variety of different postures. Opt for cushioned couches, footstools, seating, or sofas that will create a sense of calm and serenity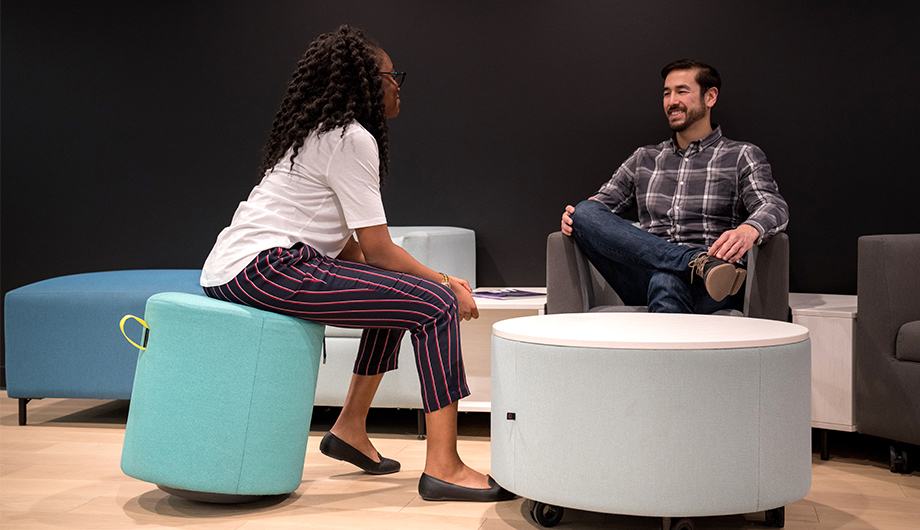 Good dividers help you think
The rest area must meet the needs of multiple users without interfering with relaxation. Whether to clear their mind, to discuss with colleagues, or to enjoy a cup of coffee, the layout must give employees the opportunity to undertake their activities in perfect harmony. Integrating soundproof walls makes it easier to divide the space for different needs and to ensure tranquillity for all. Designed to let the light in, architectural wall panels provide soundproofing that promotes both collaboration and productivity.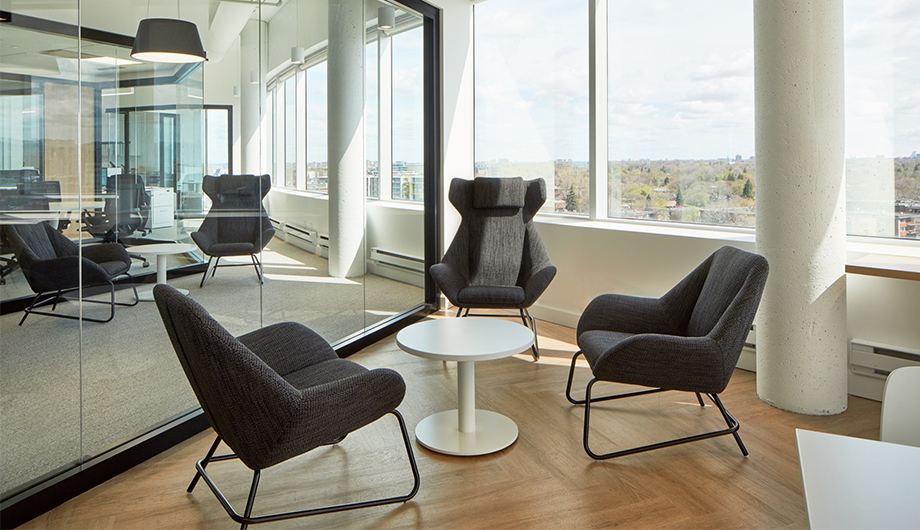 In your image
The decor can create a friendly and lively atmosphere. Use this space to convey your company's values through the inclusion of customized elements and add colours that will encourage rest and relaxation. Consider involving your teams in the choice of decoration and when designing the space to increase their commitment.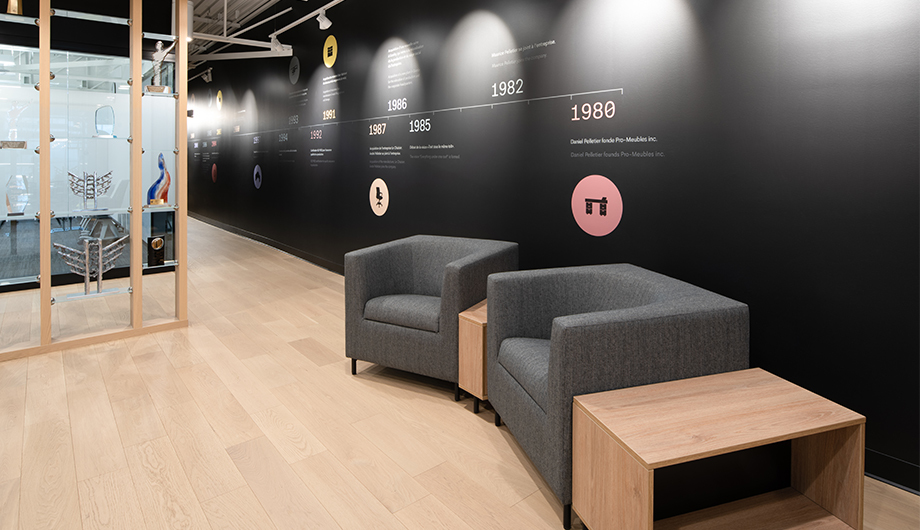 Relaxation means coffee
Could you really call it a rest area without coffee or tea? Offer speciality coffee counters and a selection of warm or cold drinks. Supply the space with fresh seasonal fruit or healthy snacks so your employee can recharge their batteries. Improve the synergy and collaboration of your teams by including appropriate furniture which promotes discussion and where people can share ideas around a warm drink.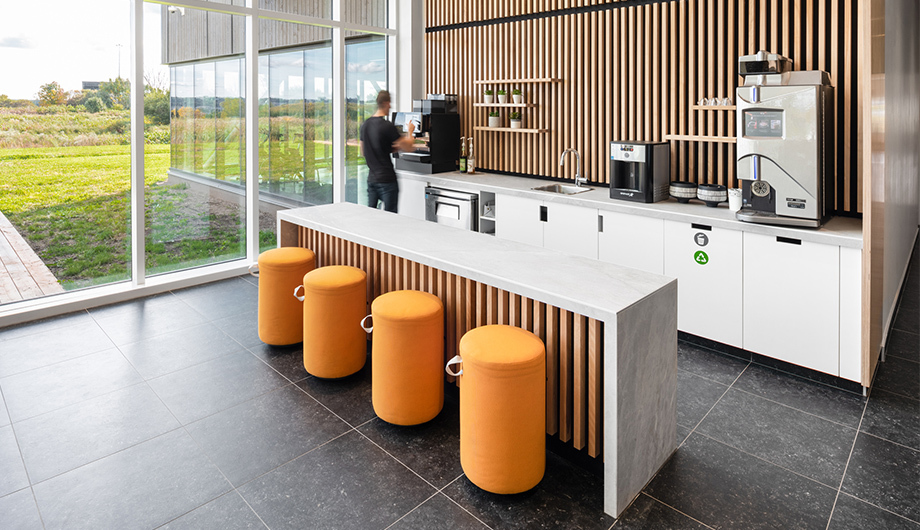 Add some green
Biophilic design is becoming more popular in workplaces. Including green spaces, natural light, and a view to an exterior landscape are things to consider when planning a refined and healthy space. Wall plants, potted plants, or climbing plants; materials, shapes, textures, and design characteristics that reflect the environment must be an integral part of the layout.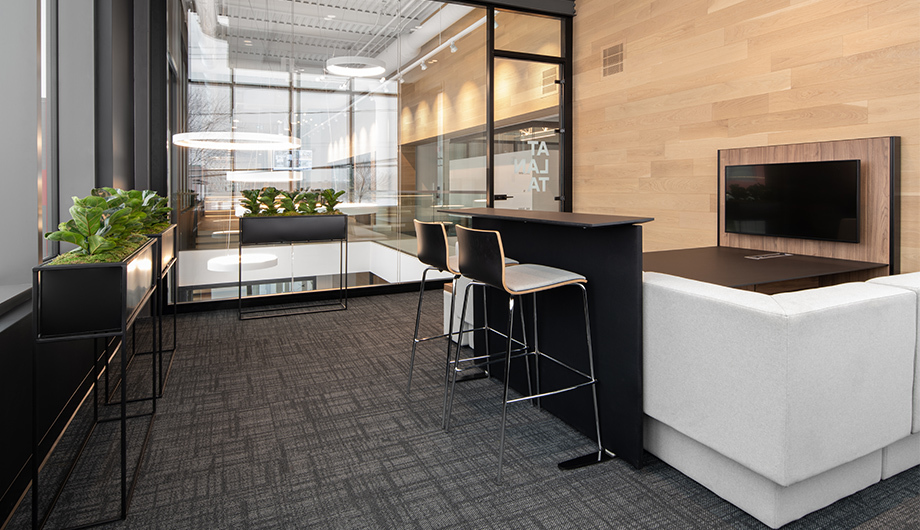 A place to create social bonds
For some, dynamic breaks are better than relaxation breaks. Offer leisure spaces that will foster personal interaction and improve team cohesion. Employees can unwind during a game of ping-pong or baby-foot and then resume their activities with increased productivity.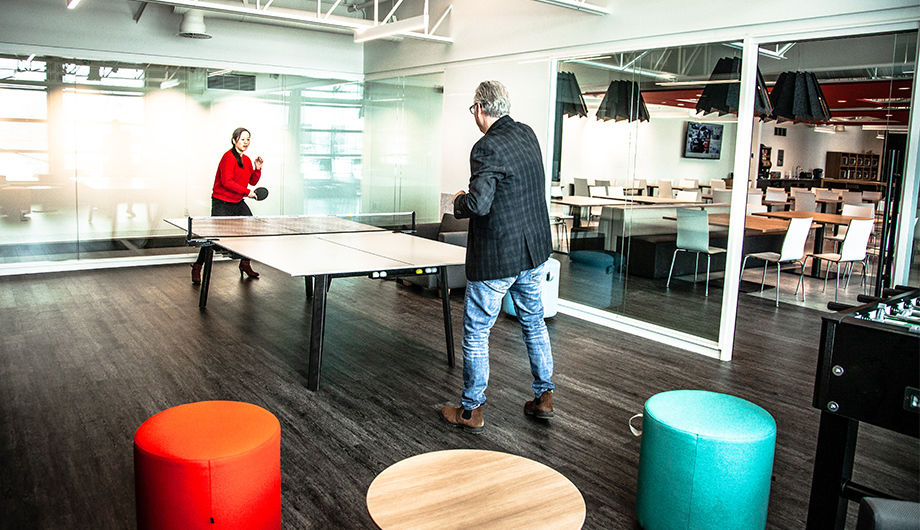 Including those elements in the layout of your relaxation spaces can only be a positive contribution to the wellness and success of your company in the long term.